When you think of the former Soviet Union, the word "sympathetic" isn't necessarily the first on the list of adjectives that springs to mind. This Lada 2102, however, is just that. It's also extremely detailed and totally awesome, in all aspects.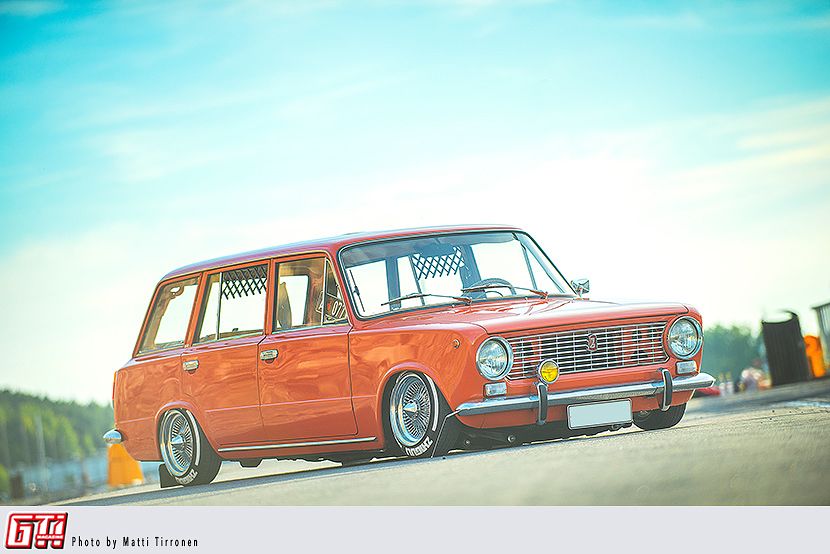 Basically everything below the skirtline has been renewed after the purchase. The brakes are all new, as is every hose and wire, driveshaft, exhaust, etc. Everything has been made using original spare parts, and extra care has been taken to keep the car loyal to its origins.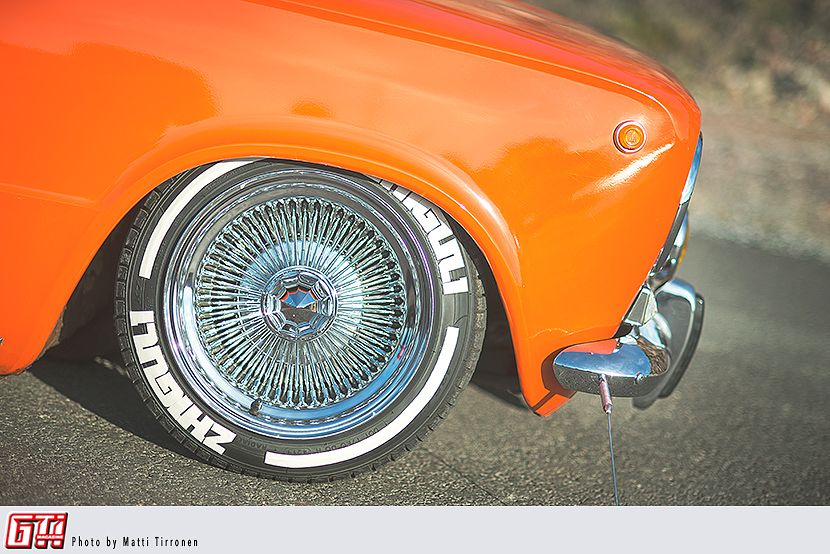 Lowrider Wire Wheels look like they were made for this car, but in reality there was a clash of nations when these American made wheels were installed to this tsar of a car. The front axle had to be narrowed by three centimeters, and the brake calipers were "lightened", using the power of prayer to keep the calipers from crumbling into bits. White wall tires were not found at this size, so Klaus used stickers instead.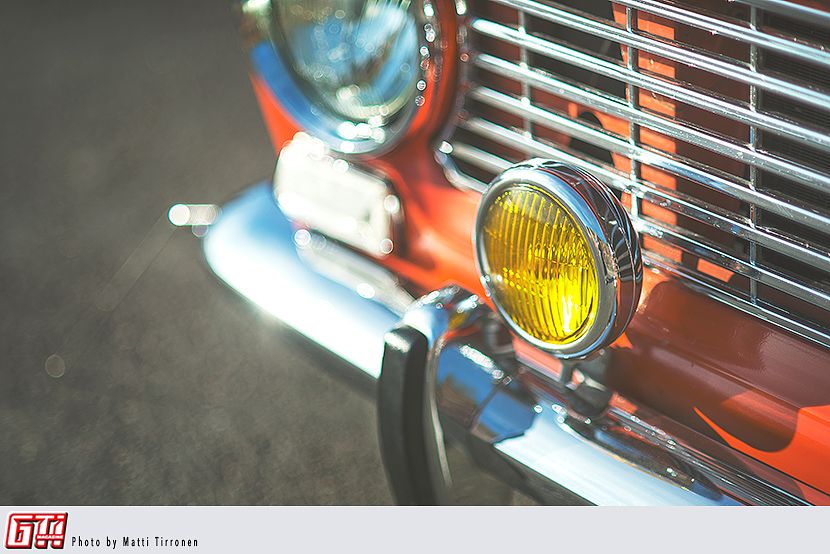 This Zhiguli is in awesome shape, despite being middle-aged and having witnessed harsh conditions. The strength to upkeep and maintain this car comes from a comment said by a young lad: "how can anyone drive that ugly peace of sh*t?"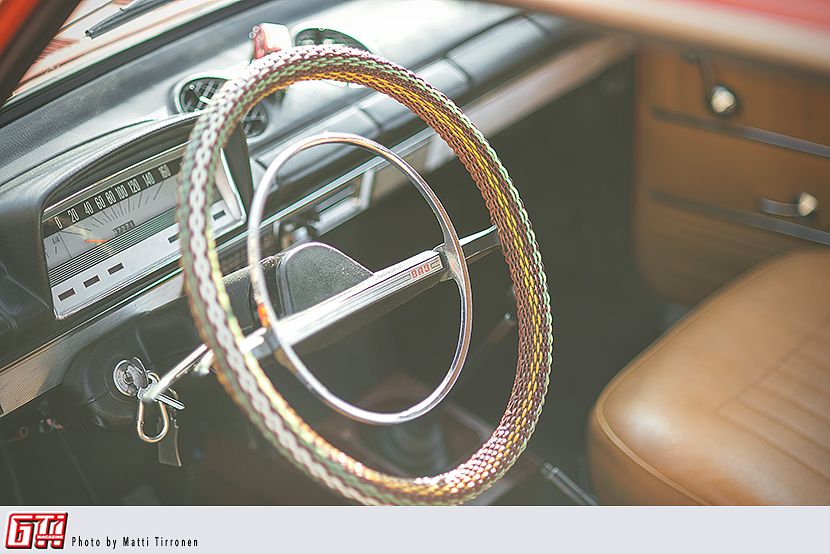 The steering wheel cover has been made by an unknown Slavic artist from an assortment of electric wires. Even though the car has caused a lot of weird problems and has forced the owner to be creative, the upkeep is surprisingly simple and very cheap.
The interior is as original as possible. Every modern apparatus has been hidden using creative thinking. Tweeters for the component speakers are mounted below the dashboard, against all advices from audiophiles. The mid-range speakers were installed underneath the front seats.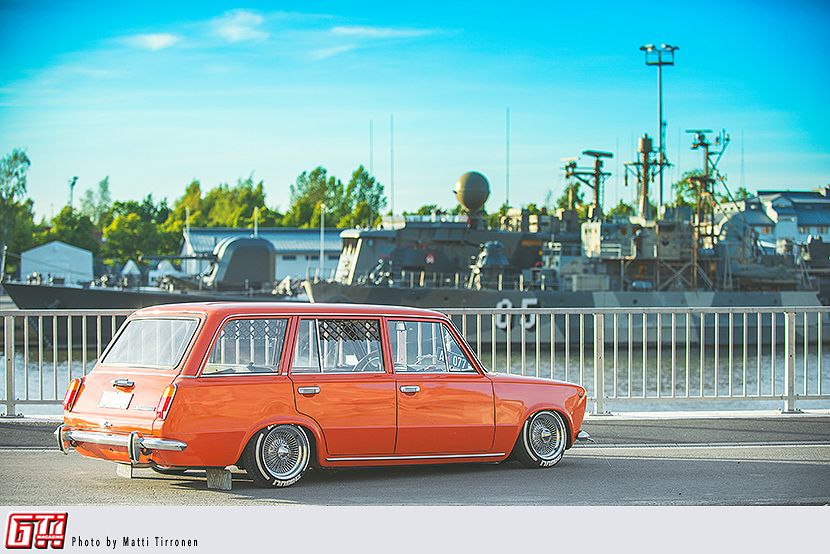 The owner of this Lada 2102 Combi '76 is Klaus Uimonen. He had owned a Lada 2101 for several years, when a sudden urge to have an estate car rose its head. A possibility of needing a vehicle for transporting baby strollers was the perfect excuse to invest in a beast like this, and thus the search begun. The model is not very common, especially in decent shape, and this exquisite specimen was finally found in a car museum in Estonia.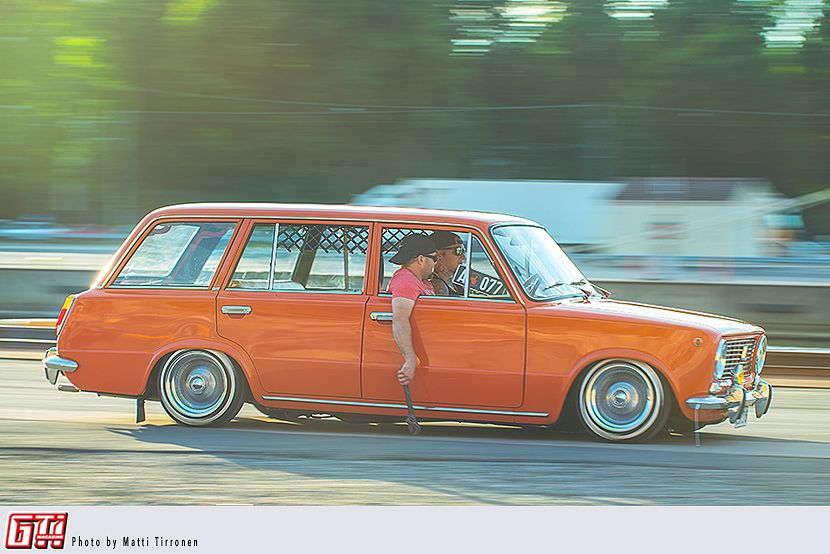 The ride height has been achieved using a Russian-made bolt-on airbag kit. The purchase of the said kit was an adventure in itself, but the installation caused a lot of distress. There was a deadline, as the car was to be used as a wedding car at Klaus' own wedding. The strut towers were not designed to work with air bags, for some reason, so there was basically no extra room. Wishbones had to be modified in a brutal fashion, and hoses and clamps had to be changed to something that actually worked. So it came to be, that the bolt-on kit took several weeks to install, and the installation was finished on the eve of our hero's wedding day.
SPECS:
ENGINE:
1.2l Made by CCCP
DRIVETRAIN:
Five-speed manual transmission from a 1500-series
SUSPENSION:
A genuine Russian bolt on bag kit
WHEELS:
Lowrider Wire Wheel 13x8"
TIRES:
Hankook Optimo 135/70/13"
EXTERIOR:
Wheel arches have been modified without breaking the laws of physics, otherwise everything is original
INTERIOR AND AUDIO:
Center console has been extended to make room for suspension controllers, dear grandmothers old school bag works as a subwoofer enclosure for an Alpine 8" sub, an old leather briefcase holds a DLS amplifier, Alpine's head unit and a JBL component set can be found hidden in the realms of this timeless machine
NUMBERS:
62hp and 87Nm @ 3400rpm
ON THE NEXT EPISODE:
Season 2016 will witness a suspension upgrade like no other
THANK YOU:
Esa Mäkeläinen, Chicken House Garage, Jussi Koski, Mikko Lehtonen (Liedon Autopesu Oy), Joni Aaltola (Turun Laatufiksaus), Ismo Teinilä (Special Service Finland Oy), Matti Kettunen (Automaalaamo Kolibri Oy), Miikka Kesäläinen. And of course my wife, who hasn't changed the locks.. for now.