This bagged Merc has been built in cooperation with the children living in the foster home of Satuniemi, since the owner of this car, Jussi Arbelius, also runs the foster home in question. The end result is something that can be bragged about.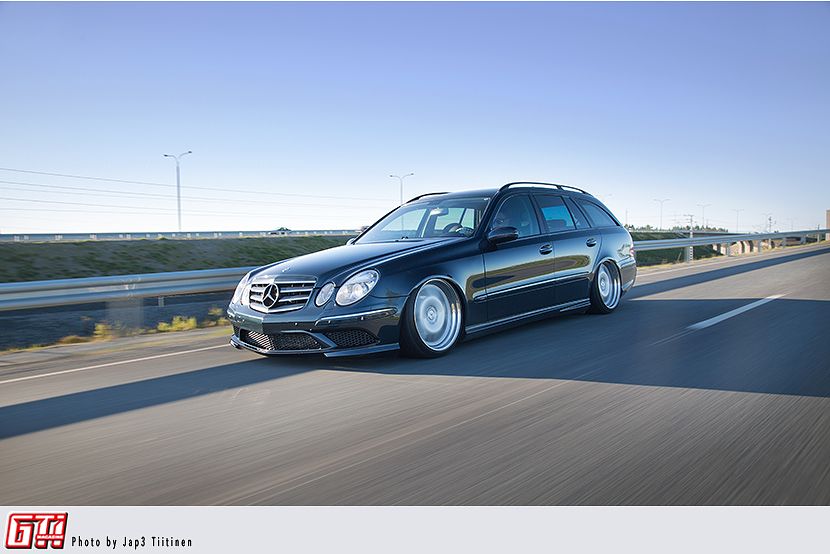 This '03 Merc is equipped with a 2.7 liter turbodiesel. In stock form it has a cozy 177hp, but the ECU has been reprogrammed to produce 220hp and 500Nm. After the reflash the Merc has also been equipped with a better intercooler.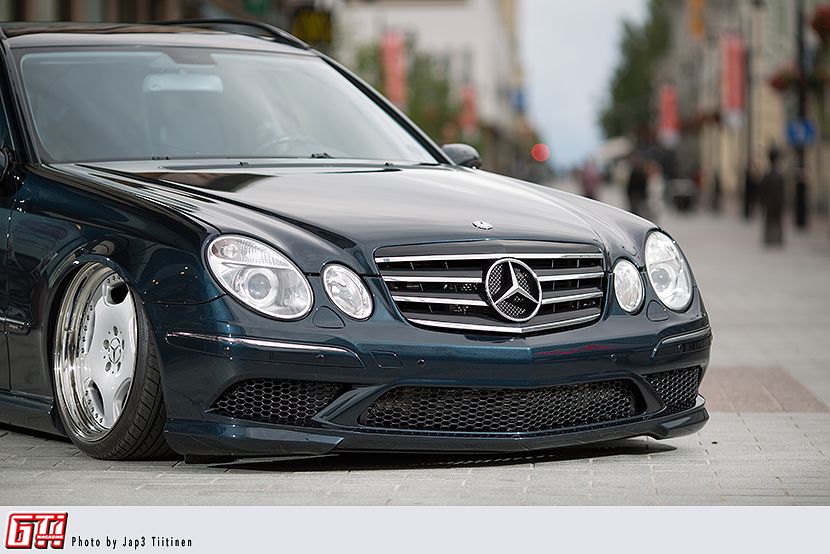 In stock form this Mercedes has iron springs in the front, and the rear axle has an air suspension. In current form the front end has struts from D2 coilovers, and the air bags are made by Aero Sport. The installation of this suspension took only 1,5 weeks in the middle of the woods, and did not drive the owner insane at all.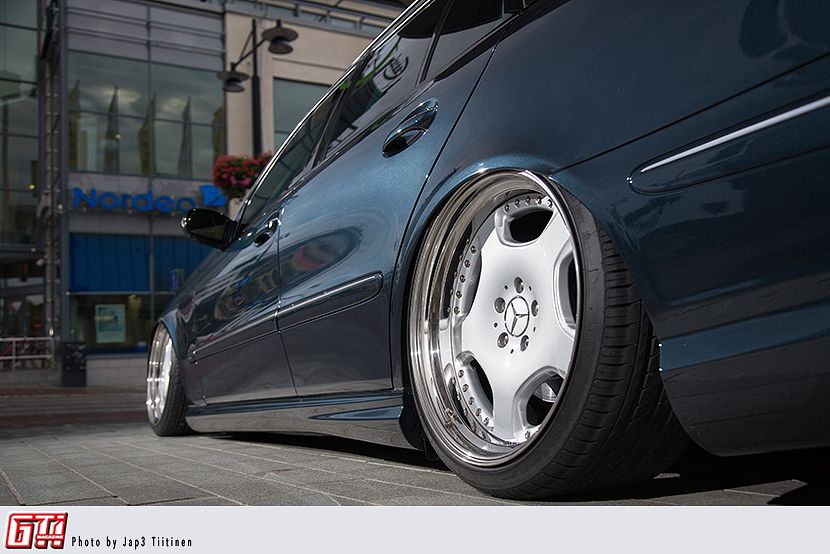 The Artec VIP wheels are wide enough. Nine inches in the front, 10.5" in the back.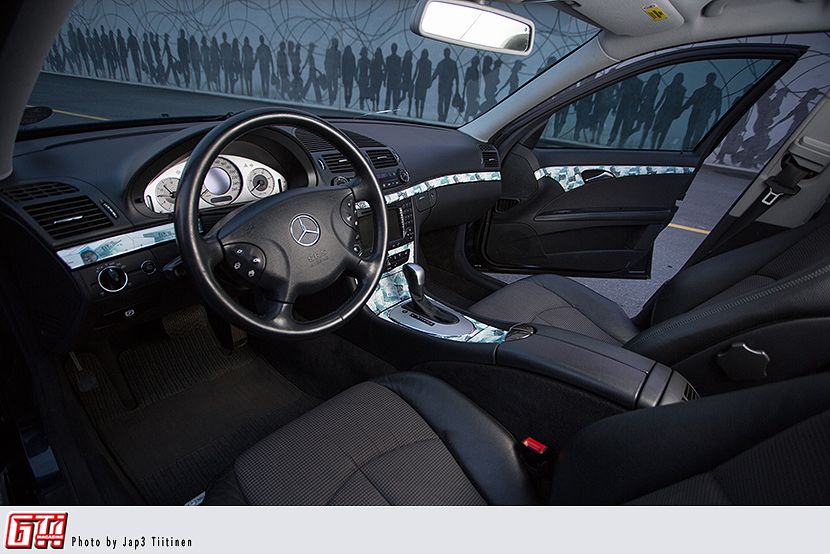 The interior panels have been decorated with old Finnish currency. The 20 mark bills will be upgraded to 1000 mark bills in the future, which will make it more.. luxurious?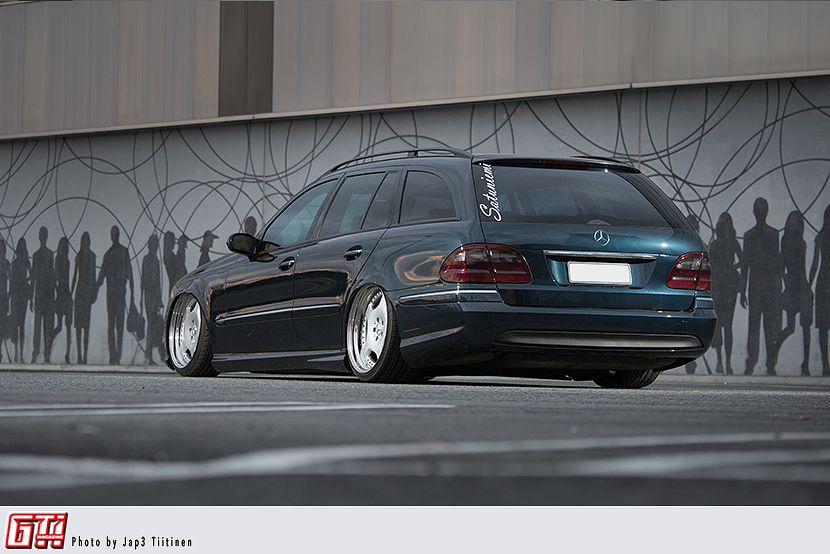 The stock rear suspension can be reprogrammed with MB's own Star software, but that wasn't enough for Jussi. One option would have been MB's own Airmatic, but it's ridiculously expensive. The necessary parts for a sweet air suspension were therefore ordered from Lowtoys.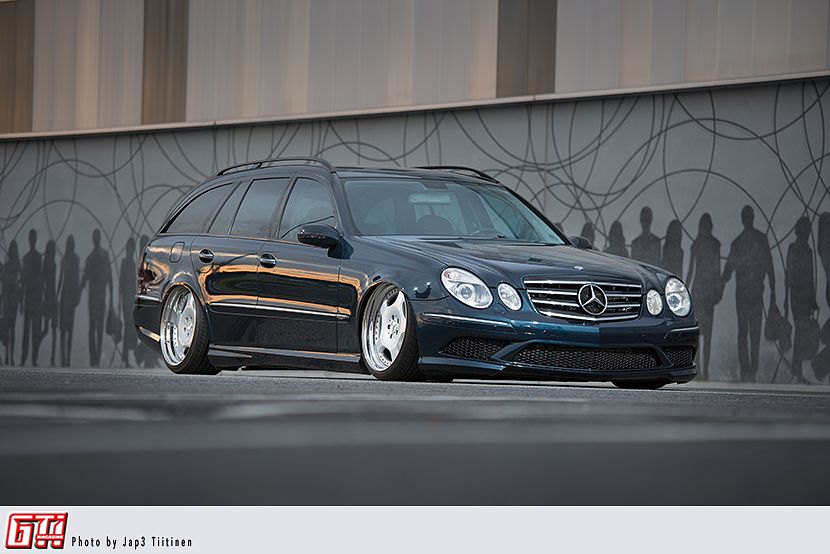 The front and rear bumbers are genuine AMG pieces. The rear bumber for the wagon is a rare one, and was found used on eBay, hence it was a must buy.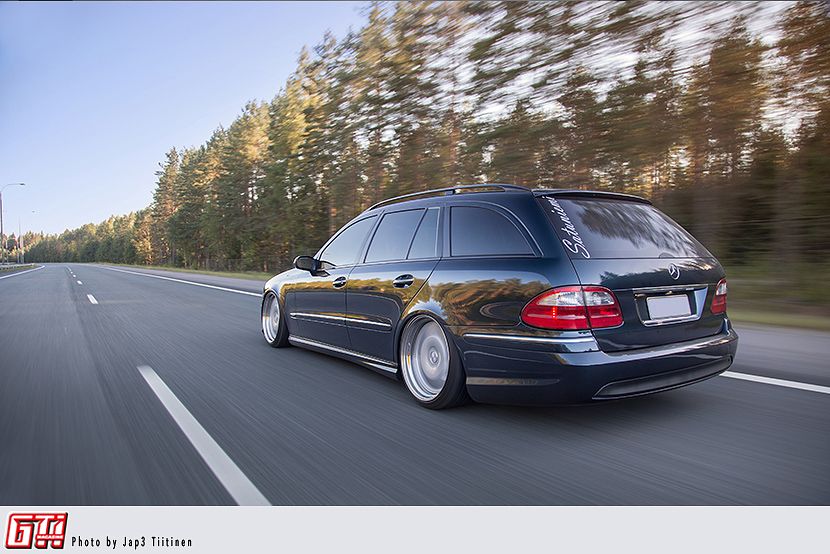 The paint job is seriously sweet, since it has been recently repainted. The children of the foster home were a big help dismantling the car and watergrinding the paint surfaces, and actually seemed to enjoy the work. The car was seriously scratched just a couple of days before this photoshoot, but the damage was fixed with buffing – once again.
SPECS:
ENGINE:
Custom ECU map, larger intercooler
SUSPENSION:
D2 shock absorbers, Airlift Autopilot V2 -controller, Aero Sport bags, Viair compressor, 5 gallon tank, rear suspension is "OEM+"
WHEELS:
Artec VIP Me 9+10,5x19"
TIRES:
235/35/19" & 265/30/19"
EXTERIOR:
Original AMG bumbers and skirts, rear window wiper removed, body painted and cleaned
INTERIOR:
Dusts have been wiped
AUDIO:
Harman Kardon
NUMBERS:
220hp and 500Nm
NEXT ON THE MENU:
A bigger turbo, a turbo back stainless steel exhaust, a rim upgrade, polishing and water grinding for the bodywork. The 20 mark bills will be swapped to 1000 mark bills.
THANK YOU:
Foster Home Satuniemi Oy, wife, Aksu Ruotsalainen, Pasi Puustinen
WWW:
http://www.cdlcforum.com/t15220-juip1n-pussi-meesu-s211
IG: @juipp1