This VW Bora has had the same owner since 2008. The owner, Juho, bought it when he was on the market for a practical family car. The first year was spent just cruising around, but then all hell broke loose. Not because of the infamous 1.9TDi, mind you. Sometimes it's just pure lust. The lust to modify.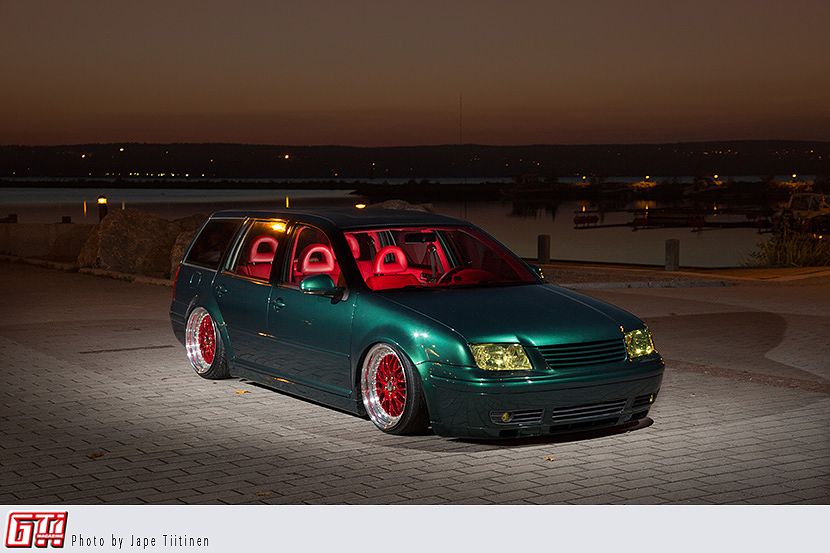 While the main attraction is obviously the looks, the engine has been modified too. The previous owner had swapped the turbo to a Garrett GT1749V. Juho took this a little further, and after some mods the engine now produces 45hp more than stock (was 115hp, now 160hp).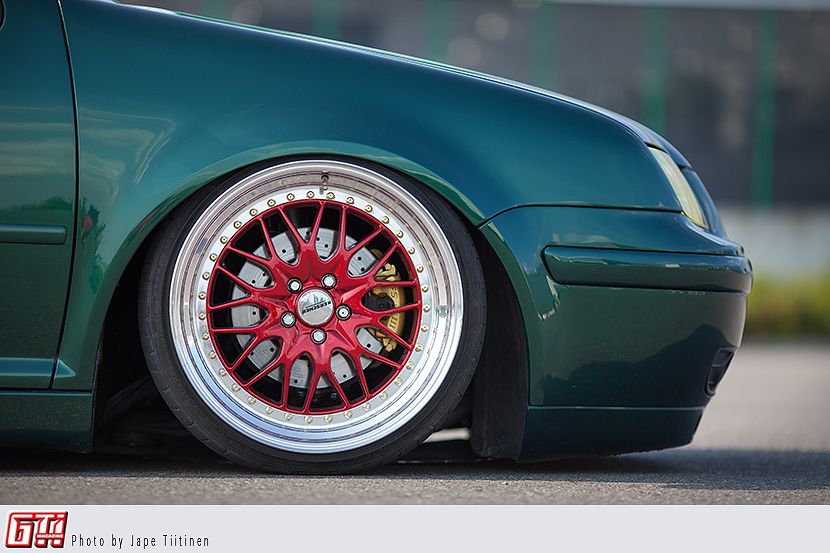 During the seven years of coexistance Juho and Bora have fitted many shoes, but these seem to fit the best. Kerscher CS 3-piece wheels are 9.5x18". Juho dismantled these rims and noticed, that when you swap the lips across you can create two 9x18" rims and two 10x18" rims. The wheels were properly renovated and buffed, and the hubs were then painted candy red.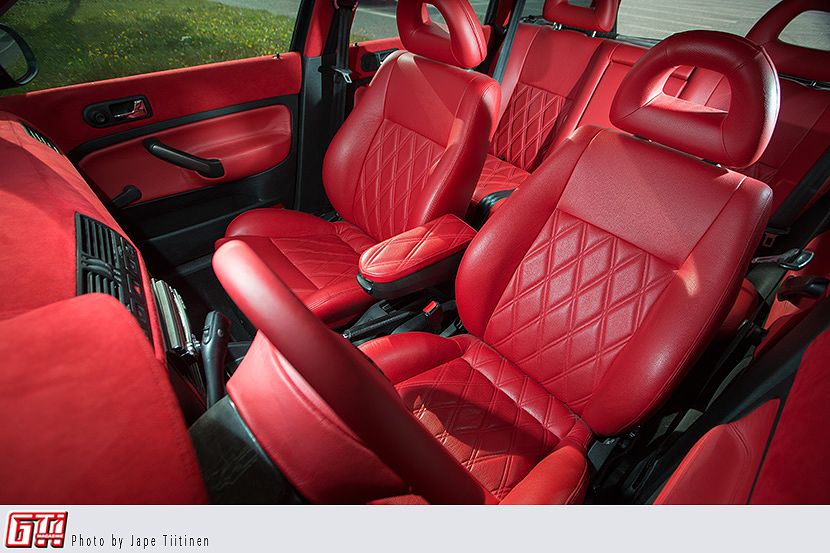 Juho took the car to Autoverhoomo Custom to get a little fix to its interior. Things got a.. little out of hand, to say the least. The seats were upholstered with red leather avec diamond stitchings.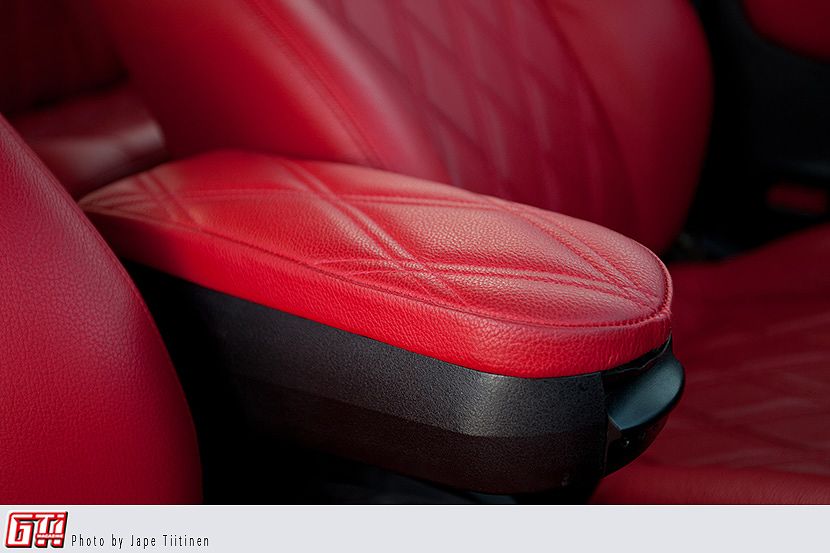 While the seats were remade, it was necessary to make other mods to the interior too. The door cards and the steering wheel got a nice little leathery facelift also, as did the armrest posing in the picture.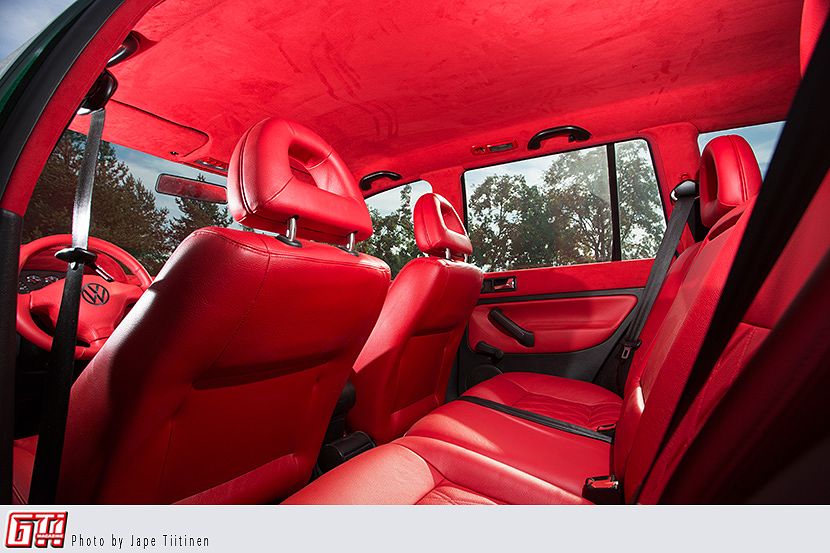 The interior was finished in the year 2014. The roof, dashboard and the pillars were wrapped in red alcantara, which completes the flashy look. There are two sets of component speakers hidden in stock locations, and the car has been properly dampened to ensure optimal audio experience.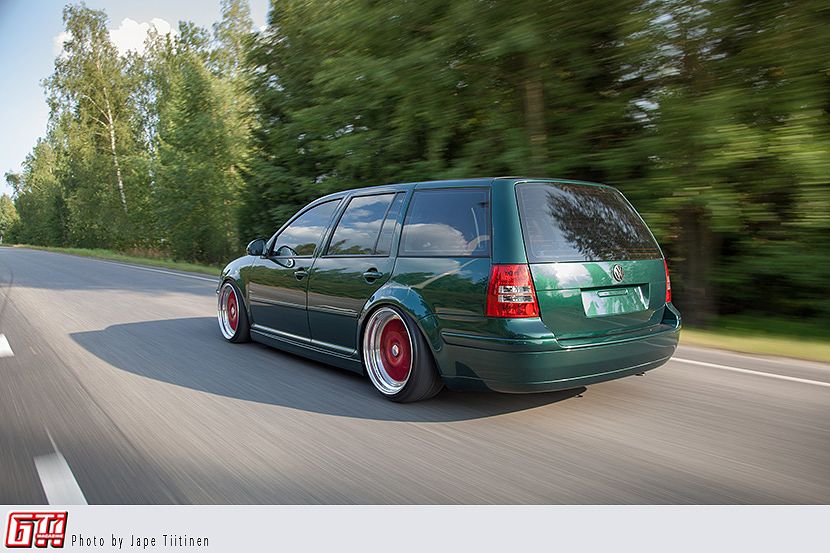 Air suspension, the age old trick for getting the looks and a comfy ride home. Airlift Autpilot V2 controls everything around here currently, after a violent incident with its predecessor (V1). The front bags (Aerosport) have been wrapped over coilover struts, while the rear bags (SS5) are very much custom mounted. The compressors and the valves have been hidden in the spare tire well, so the functionality of an estate car remains.
SPECS:
ENGINE:
FMIC, 3bar MAP sensor, Garrett GT1749V turbo, modified intake manifold, engine has been lifted 1", 2.5" stainless steel exhaust
DRIVETRAIN:
6-speed manual
SUSPENSION:
Custom air suspension, SS-5 rear bags with custom mounts, Aerosport bags modified to fit in the front coilover struts, 2 x Viair compressor, Autolift Autopilot V2 controller, 2 x SMC water separator, 8 x SMC valves, 5 gallon tank, adjustable upper front end, front camber arm's adjustment plates, rear axle has been moved backwards, reinforced undertray shield
BRAKES:
Drilled front discs, painted calipers
WHEELS:
Kerscher CS 3-part wheels, 9+10x18", inner barrels painted with shiny black, hubs painted with candy red, polished lips, chromed emblems and golden hardware
TIRES:
Front Toyo T1R 205/35/18, rear Nankang 225/35/18
EXTERIOR:
Badgeless mask, side indicators removed, mirrors with indicators from a Golf V, side skirts from a Golf R32, roof rails removed, roof wrapped with 3M 1080 matt black vinyl, crystal/red tail lights, front bumber grills with fog lights, front splitter from a V6 model, locks removed from door handles, front bumber strip smoothed out, the whole body has been repainted with original colour, tinted windows, rear window wiper removed and replaced with a glass plug, rolled arches
INTERIOR:
Dashboard, door cards roof and sun visors have been upholstered with red alcantara, red leather seats with diamond stitchings, arm rest and steering wheel upholstered with leather, embroided steering wheel emblem, custom floor mats, miscellaneous interior parts wrapped with 3M 1080 satin black vinyl, some parts painted with black and red, aluminium baseball bat, painted air tank, valves placed in a led illuminated casing, laminated floor in the spare tyre well, all the interior light bulbs are leds
AUDIO:
Alpine IVA-D105R DVD-player, Focal Expert PS165EX component speakers, Ground Zero Competition GZCW 54Y component speakers, 
Mosconi Gladen One 120.2 amplifier, STP Gold dampening material from floor to roof, GPS locator.
NUMBERS:
160hp and 398Nm (stock 115hp and 310Nm)
NEXT:
Some suspension modifications, and quite possibly a new project
THANK YOU:
JKautofix (main sponsor),
 JLautohoito / Jarno Lappalainen (paint job),
 A.R.T työkalumakasiini / Riku & Kalle (tools, paint supplies),
 Merner Pultti (mounting equipment),
 Mark Art (tinting and wrapping), 
Lowtoys/ Tomi Olli (air suspension components), 
Autoverhoomo Custom / Mika Volanen (upholstery), 
Etra (air lines), 
Hifix / Joni Hirvonen (audio), 
Bike & Tuning / Teemu Rossinen (arch rolling), 
Tmi: Sami Vesanto (buffing), 
Anssi Reimi, Janne Arjanka, Tomi Äikäs, Markus Laakso, Pekka Vikman, Toni Terenius, Nikolas "Niksu" Nikula, Esa Rämö. My loved one, who has endured long nights in the garage. Also thanks to everyone, who's had a part on this project, but wasn't mentioned.